With Auto Scheduler Advantage, connecting customers with cars has never been easier.
Our software helps keep your dealership organized by making your Delivery Schedule and data easy to access.
The last thing you want to worry about in your business is a complicated, messy software system that fails when you need it.
The better your system flows, the better you look to clients and customers so you can close the sale and get those glowing five star reviews.
Unlike other software services, we developed ours to be easy to use so it won't get in your way.
You'll love these simple and powerful tools!
Our software doesn't require a costly separate server since it works on almost every Internet browser

Schedule cleanings before your customers arrive with our clear delivery schedule

One license applies to an entire business, so you can use as many computers as needed without expensive extra licenses

Save hours and money on training since our software is easy to use and navigate.

Answer customer questions in seconds with a clear user interface that shows you everything you need to know.

Keep information color-coded so you can find the status of a car in just a few clicks

Quickly adjust schedules so you always know what is happening with your employees and customers' cars.

Keep your sales, management, and detailing teams all on the same page every day
ASA Screen Shots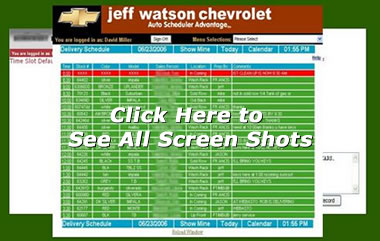 Even on your busiest days, you won't have to run around trying to find data by sorting through tons of paper, binders, or confusing software. You're always on top of your game because the Auto Scheduler Advantage is there when you need it most.
You will always know the status of the cars for your customers.
No more last minute apologies to a customer waiting for a car because your team will always be on the same page. Your entire dealership will become a smooth operating machine.
As you know, customers are happiest when they receive the car keys in hand and are able to drive it off the lot right then and there.
Pick up the phone and call 586-264-5632 today!
Take the Risk Free Test Drive for 30 Days,
or click below to send your contact information:

Yes, I'll Schedule a Test Drive I have a few questions
Warmest regards,

David P Miller,
President
Software Advantage Consulting Corporation
8814 Pemberton
Sterling Heights, MI 48312
Call to take your Risk Free Test Drive TODAY!
We do all the work… you just sit back and watch how the
Auto Scheduler Advantage can maximize time and money for your dealership!
I want to Start my 30-Day Risk-Free Test Drive!