This schedule is used to schedule cars for the Reconditioning Process. The ability to define different operations in the CS Version of Auto Scheduler Advantage™, provides more flexibility to present the information your dealership needs to get your job done more efficiently.

With the Reconditioning Schedule you can track every single used vehicle that has been traded in or purchased all the way from the time of the initial purchase/trade in, through used vehicle safety inspection & repair, the reconditioning process, body shop repairs, minor paint flaw repairs in multiple different repair facilities easily & efficiently from anywhere you have internet access.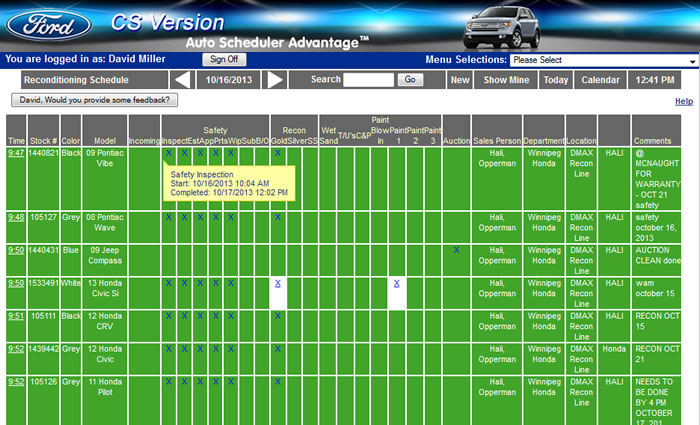 Multiple Operations show you progress over a number of different processes
Tooltips show you more detailed information for each operation
Colors change to give you a high level overview of the status of each operation
Monitor Turn Time to Optimize your Reconditioning Cycle
"Our Turn Time has decreased dramatically since we've started using the Reconditioning Schedule"
-- Anthony Enns, Operations Manager, DMAX
Schedule Summary
With the Summary schedule you can view any specific schedule over a selected data range. Here we see a screen shot of the Summary Scheduler with the information from the Reconditioning Schedule over a 15 day date range.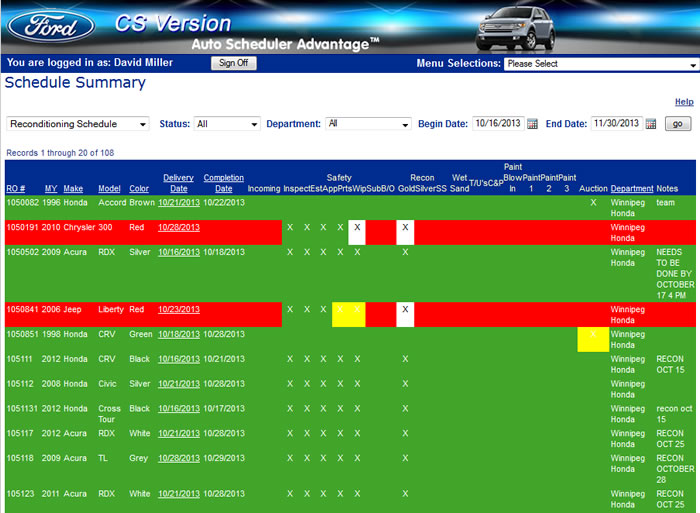 We have the ability to configure which columns you see on the screen. This ability exists for any of the different schedules available in the CS Version of Auto Scheduler Advantage™

Return to CS Version